Feature Horse
TS MARVELOUS FAME
Proudly offered for sale!!
Owned by: Terra Sano Ventures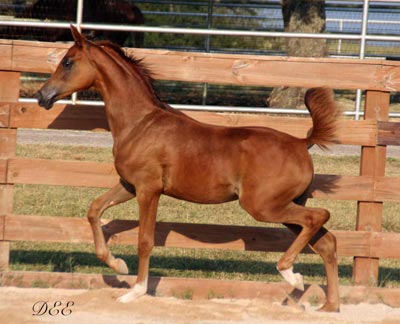 TS Marvelous Fame as a yearling
TS Marvelous Fame is a chestnut stallion that is the result of the commitment to breeding National quality western pleasure horses. His breeders, Russ Taylor and Chris Smith, of Terra Sano Ventures breed solely and specifically for western pleasure horses. A "few" years ago for Chris' 40th birthday, he told Russ he really wanted them to buy another broodmare. Up until that time, their breeding program consisted of breeding one mare by Desperado V to CA Hermoso+++/, which produced great results. This time they decided to buy a daughter of Fame VF+ and expand their western pleasure-breeding program.
After a search all over the country, Russ and Chris flew to Hemming Arabians in Santa Ynez, CA to look at sale horses. They knew that Paul and Carol Hemming owned HR Dancin Fame, who was the dam of two National winners, but were told she was not for sale. HR Dancin Fame was a Fame VF+ daughter and out of Colombia, who was sired by Khemosabi++++// and out of a *Cytrys daughter. After seeing Dancin Fame, Russ and Chris knew she was the mare they wanted, and let the Hemming's know if they ever decided to part with her, they would buy her. Later that night at Chris' birthday dinner, they received a call from Paul saying they could buy her. Their purchase of HR Dancin Fame was the first step in their vision of line breeding to Fame VF+.
Russ and Chris kept in mind what Sheila Varian had always told them, "The best way to line-breed was to breed a direct offspring of the horse to a grand-get of the same horse." They made the decision to use Dancin Fame to line-breed to Fame VF+, and started looking for a Fame VF+ grandson. At US Nationals, they saw Marwan Al Shaqab, and later they saw him up close at Michael Byatt's open house. After talking with Michael and hearing of Marwan's quiet attitude and kind disposition, they decided that he would be the one to breed to. Although Marwan is a multi-National Champion Halter stallion himself, and has sired multiple National Champions in the halter division, they were a little leery of breeding to an unproven western pleasure sire. In the end, they decided to risk it since his dam is National Champion Western Pleasure Junior Horse, Little Liza Fame.
TS Marvelous Fame is the result of this planned out breeding and with both parents producing National winners, he is no doubt going to follow in their hoof prints. "Marv" has always been eager to learn, willing to please, and is very intelligent. With his long neck that hooks in the right place, soft jog and clean lope, he will definitely get noticed in the show ring. Russ and Chris feel that he represents their breeding program very well and are proud to offer him for sale! All of us at Vallejo III, Inc feel that he has a bright future in the show ring as an open horse, as well as an amateur horse. With the induction of the Western Pleasure Amateur Maturity Championship at US Nationals, Marv would a strong competitor in that as well.
Written by: Kiera Robinson
---
Nakita WP
Proudly offered for sale!!!
Nakita WP was bred and raised by Dianna Stanger of Wolf Point Ranch in Port Lavaca, Texas where they have a reputation of breeding beautiful and athletic horses. The horses bred by Wolf Point Ranch and Stanger have diverse pedigrees and the ability to be successful in many different avenues and Nakita WP is no exception. Nakita's athleticism has led to a successful start in her show ring career and her diverse pedigree will allow her to be an excellent broodmare as well.
Nakita WP is by Eqynox+, who was owned by Wolf Point Ranch while earning a Canadian National Champion in Stallion Halter, United States Reserve National Champion in Amateur Stallion Halter and Multiple Regional Championships in halter as well. Eqynox+ has produced athletic foals with beautiful necks with lots of shape and Nakita has inherited all of these qualities from her sire. Nakita's dam, Balaklava NA is by the English Pleasure winning and producing sire, Bravado Bey V. Balaklava NA was successful in the Country English Pleasure division before becoming a broodmare at Wolf Point Ranch. Nakita has inherited her dam's powerful and cadenced motion as well as athletic ability.

Nakita WP arrived at Vallejo III, Inc in the fall of 2009 and has blossomed into a beautiful mare that has enjoyed much success in her first year of showing in the Hunter Pleasure Junior Horse division. This summer she was Top 5 at Region 9 in the Hunter Pleasure Junior Horse championship and then followed that by being named Reserve Regional Champion in the same division at Region 13. Not only has Nakita been successful in the ring in the hunter division, as a yearling she was Top 9 at Region 9 in the Arabian Breeders Sweepstakes Yearling class. With her eye catching steel grey color and beautiful movement, she is definitely getting noticed in the ring!

While gaining more confidence in her training Nakita has become a steady hunter pleasure horse and her athleticism would allow her to easily compete in the hunter, show hack and sport horse division in any age group.

Along with her success in the show ring, Nakita is a kind horse to be around and loves any chance she gets to kick her heels up and play outside! With her diverse pedigree, athletic ability, willing attitude and kind demeanor, she would be a great addition to any breeding program as well!

Nakita WP will compete this fall at the US Nationals in the Purebred Hunter Pleasure Junior Horse class. Dianna, Wolf Point Ranch and all of us at Vallejo III, Inc are excited about Nakita WP's potential and believe that anyone who is interested in owning a great mare that will be successful in many areas would be thrilled to own her! Don't miss out on this chance to own a mare who will undoubtedly take you to the winner's circle more than once!

Written by:
Kiera Robinson
---
Sunstormm
Henry and Lian Roche of Kendal, Ontario were looking for a horse that would win and be influential in the Arabian industry. They wanted something young, pretty and talented. They called Vallejo III, Inc expressing interest in buying a purebred mare or stallion and Bob Hart told Henry about a young stallion that he felt was going to be great. Henry's interest was immediately piqued as Bob described the young colt that had him obviously excited. After viewing pictures and a video of Sunstormm, Henry and Lian decided to buy him and are thrilled with the acquisition and the possibilities for the future.
Sunstormm's sire is Sundance Kid V who has sired many National Champions including May Dancer V, Melody V+/, Mariachi Kid V+/, Sunsational Kid+/, Onyx A, Mojave Kid+++/ and Baywatch V++ to name a few. Sunstormm has inherited his sire's trademark style and look. His dam is a daughter of the multi-National Champion winning and multi-National Champion-producing sire, Rohara Moon Storm+//. Ice Storm TC+// has been multi-National Champion, multi-Regional Champion and multi-Scottsdale Champion in the youth division and is a typical Rohara Moon Storm+// daughter. She is a great mover with unique style and a strong show ring presence.
By choosing to breed these two horses, it is evident that breeder Tom Redmond of Wolf Springs Ranch had a goal in mind; he wanted a National quality western pleasure horse. Sunstormm has the presence of a big-time show horse, is a great mover and has the mindset to be extraordinary. He is extremely intelligent and has the talent to be a superstar in the ring. Sunstormm will undoubtedly leave his mark as a breeding sire as well.
This summer at just three years old, Sunstormm showed in his first class at the Region 13 Pre-Show and earned a second place in the junior horse western pleasure class. He has an exceptional show ring style, and with his soft, fluid movement he is proving to be a superstar in the making. Trainer Bob Hart is constantly singing his praises and couldn't be more pleased with his progress. Immediate plans are for Sunstormm to show at US Nationals in the Purebred Western Pleasure Futurity and after that the possibilities are endless!
Sunstormm will begin his breeding career in 2011 with a stud fee of $2,000. With so many incredible and influential horses in his pedigree, Sunstormm has many avenues to offer prospective breeders.
Written by: Kiera Robinson
---
Zips Moonstorm and Patti Sterling
Patti Sterling of Los Angeles, California had her first encounter with Arabians in the 1970's with a Half-Arabian mare that she showed to several Regional and Class "A" championships in Halter and Western Pleasure. She then was the proud owner of Hecichero, who was one of the first Half-Arabians to have Saddlebred breeding. Between Canadian and US Nationals, Hecichero garnered seven National Championships in Halter, Pleasure Driving and the English Pleasure Divisions. It was during this time that Patti fell in love with the Arabian show world!
For the past 21 years Patti has been horseless as she raised two children to adulthood. While on a camping trip to the California coast with her husband in the spring of 2010, they decided to attend Sheila Varian's Spring Fling. Always holding Sheila in high esteem as she watched her show at the Cow Palace in San Francisco, CA, Patti was mesmerized. Anyone who has been to any of Varian Arabian's events knows that you leave rejuvenated and wanting more; Patti's visit to Varian's was enough to set her off in search of a new western pleasure horse. Patti and long-time Vallejo III, Inc. client Bobbi Stuckenhoff had met through their shared interest of dog agility and it was through this connection that Patti saw pictures of Bobbi's newest colt by Rohara Moon Storm+//. She decided to research Moon Storm and Bob Hart, Jr and marveled at the accomplishments of both; she was impressed with everything about Moon Storm and came to the conclusion that he was a special and talented horse. Around this time, Bobbi emailed Patti to let her know there was a filly that Bob Hart had for sale that she might be interested in. Patti called Bob in hopes of finding her new horse and little did she know the horse that Bob had in mind would indeed be her new dream horse.
With a Quarter horse background and appreciation for what they offer, Patti was hoping for a Half-Arabian western pleasure horse that had Quarter Horse breeding as well. The filly that Bob had in mind was the three-year old Zips Moonstorm.
Zips Moonstorm was bred to be a western horse and there is no doubt that is where her niche will be. Zips is by Multi-National Champion winning and Multi-National Champion producing sire, Rohara Moon Storm+//. Moon Storm's get have won numerous National Championships in a variety of disciplines and the cross to Quarter Horse mares is proving to be a winning combination. Zips' dam is Zips Raggedy Ann, a daughter of Quarter horse stallion, Zippo Pine Bar. Zippo Pine Bar can be found in numerous Quarter horses that are successful while competing in the Western Pleasure division. Vallejo III, Inc and other Arabian breeders have found that crossing Zippo Pine Bar bred mares to Arabian stallions is an almost guarantee of producing a western pleasure horse with style, great movement and trainable attitudes. Zips Moonstorm has proven this theory correct; she has great western pleasure style and is a soft and fluid mover all while being very trainable.
When Patti watched the video of Zips Moonstorm in her first month of training, Zips reminded her of a Quarter Horse gelding she owned years ago that was her all-time favorite! She had the same coloring, marking and even moved the same way. She decided that Zips was too much like her gelding and she couldn't pass her up; she called Bob and bought Zips!
Over the last few months, Zips has begun maturing and growing into her stout Quarter horse body. She will be shown by Bob Hart in the Half-Arabian Western Pleasure Futurity at the 2010 Nationals and then campaigned by Patti in 2011. Patti is looking forward to training and learning from Bob and is very excited about riding her new dream horse for the first time! She is hoping to visit Oklahoma and Zips for the first time in July and we are sure she is going to love everything about her new horse!! All of us at Vallejo III, Inc are excited to have Patti as part of our team and look forward to being there when she jumps back in to the show world!
Written by: Kiera Robinson
---
THE RENAISSANCE AND SMOKY MOUNTAIN PARK ARABIANS
The definition of "renaissance" is a "rebirth or revival". Long before The Renaissance was born, the foundation was being laid for his rise to stardom. With notable sires such as Afire Bey V, *Aladdin, *Bask++, Bay-Abi++, Bay El Bey++, Huckleberry Bey++ and Pro-Fire in his pedigree, The Renaissance was destined for greatness from day one; he was destined to be a rebirth of all his predecessors.

With a star filled pedigree, The Renaissance is a breeder's dream. Renaissance's sire is ML Afire Dream, who is sired by multiple national champion producing stallion Afire Bey V. ML Afire Dream was a National Top Ten Halter Stallion as well as a Regional Halter Champion Stallion. Equally impressive is the dam side; Renaissance's dam, Fire Essense, is a beautiful daughter of the national champion producing stallion Pro-Fire and dam of multiple national champion winners. Pro-Fire was a *Bask++ son and some have claimed that The Renaissance is the next *Bask. Renaissance's pedigree is full of National Champion winning and National Champion producing horses in the English and Park divisions; he has inherited all of their athleticism, beauty and talent.


The Renaissance came to Vallejo III, Inc in November of 2008 for the winter training special. When Bob Hart picked him up in Colorado, it was evident that Renaissance was a rare find that one can only hope for the chance to own. By the end of December, Vallejo III, Inc had made the decision to purchase The Renaissance and carefully planned his upcoming future.

The Renaissance has been amazing from the time he arrived at Vallejo III, Inc. His strong body and correct legs result in big motion that is both balanced and cadenced. His extreme neck is very upright with an elegant head and an overall eye-catching appearance. Renaissance is a free spirit by nature and loves showing off for anyone who will watch. He has the "look at me attitude" and captivates you with his beauty, kindness and athleticism.

For the first nine months of his time at Vallejo III, Inc, Bob prepared Renaissance for his performance career and it was evident early on that he was talented, intelligent and possessed a very trainable attitude. In August of 2009, Renaissance went to Michigan with National winning English Pleasure trainer Shawn Rooker for preparation for the United States National English Pleasure Futurity.

Shawn and Renaissance proved to be a perfect match for each other as Shawn allowed Renaissance's free spirit personality to work in his favor. The pair was easily the crowd favorite as they were named the Unanimous National Champion in the English Pleasure Futurity class. Renaissance had everyone at the show buzzing with excitement as he displayed an extreme and balanced motion, incredible personality, charisma and a commanding show ring presence. The excitement continued throughout the remainder of the show as breeder's decided to breed their mares to this extraordinary stallion and had everyone else anxious to see what the future will hold for The Renaissance as both a performance horse and breeding stallion. He infused all those around him with undeniable exhilaration and revived their enthusiasm for the future.

After the 2009 US Nationals, Renaissance returned home to Vallejo III, Inc for some rest and relaxation before returning to Michigan in January to prepare for the Scottsdale All-Arabian Show. In the sun of Scottsdale, Renaissance continued to captivate the crowd and gain fans as he won the Reserve Championship in the English Pleasure Junior Horse Class. Anytime Renaissance was out of his stall, people were enthralled by his charm and personality. Two such people who immediately fell in love with him were Rod and Jacque Thompson of Smoky Mountain Park Arabians.

Rod and Jacque Thompson saw The Renaissance show in Scottsdale in the English Pleasure Junior Horse class, as they had a horse entered in the same class. They loved everything about Renaissance and came to visit him at the Vallejo stalls after his championship class. With their goal to produce national quality English Pleasure horses, it was no surprise that within a week they had purchased The Renaissance as an addition to their world-class stallion line up.


Smoky Mountain Park Arabians is located in the Smoky Mountains of Lenoir City, Tennessee. Although they are relatively new in development, Smoky Mountain Park Arabians is already a first class breeding and training facility. Smoky Mountain Park Arabians is home to over forty Arabians and boasts a lineup of world class English Pleasure Stallions. With champion bloodlines bred primarily for the English Pleasure and Park division, Smoky Mountain Park is home to senior stallion PS Afire Chief, Baskghazi, Ballience V, Premiere SCA and most recently, The Renaissance.

PS Afire Chief is by nationally successful sire, Afire Bey V and out of The Chief Justice++/ daughter, Justa Glow+/. PS Afire Chief has show great versatility by winning a Reserve US National Championship and a Reserve Canadian National Championship in the Park division, National Top Ten and Regional Champion in Purebred Pleasure Driving, as well as being a winner in the English Pleasure Division.
Baskghazi is by Baske Afire and out of RY Fire Ghazi, an El Ghazi daughter who is the dam of National Champion Park Horse IXL Noble Express and Reserve National English Pleasure Futurity Champion, H Mobility H. Baskghazi was the 2010 Region 12 Reserve Champion in the Purebred English Pleasure Class.

Ballience V is by Allience +// and out of Balquenette V, a Huckleberry Bey++ daughter. Ballience V has been US Reserve National Champion English Pleasure Junior Horse, Regional Champion English Pleasure Junior Horse, Canadian Reserve National Champion Park Horse, as well as Regional Champion Park Horse in both the Open and Amateur division.

Premiere SCA is an IXL Noble Express son and has inherited the MHR Nobility motion and classic Arabian head. He was recently named Top Ten English Pleasure Junior Horse in Scottsdale and will continue to be campaigned in the Purebred English Pleasure Junior Horse division.
With Rod and Jacque Thompson as The Renaissance's proud new owners, he will continue to have the opportunity to embark on his journey to greatness. The Renaissance is currently being managed by Bob Hart and is standing the 2010-breeding season at Vallejo III, Inc. With Renaissance's impeccable pedigree, undeniable charisma, show ring attitude, extreme beauty and elegant motion, he will without a doubt make his mark as a breeding stallion and again as a performance horse. The Renaissance will return to the performance ring in 2011 with Shawn Rooker guiding him.

All of us at Vallejo III, Inc are extremely happy and excited about what the future holds for Smoky Mountain Park Arabians, Rod and Jacque Thompson and The Renaissance. We believe the sky is the limit for this young stallion, who will one day join his predecessors in the ranks of the Arabian industry's all time great stallions.

The Renaissance is an AHA Breeders Sweepstakes Nominated Sire, Arabian English Pleasure Association Nominated Sire and is SCID clear. For more information on The Renaissance, please contact Bob Hart at (918) 740-3536 or (918) 257-8383 or Rod and Jacque Thompson at (865)-388-0507.
Written by: Kiera Robinson
---
Noble Indeed
Proudly offered for sale!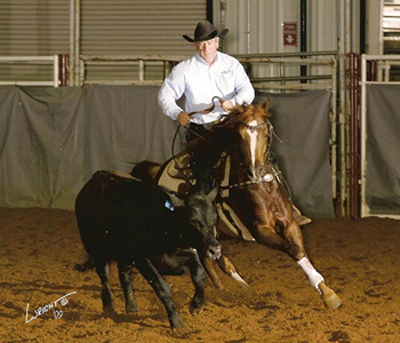 Noble Indeed was bred to be an athletic and intelligent horse, and he aptly fits that description. Noble's sire, MHR Nobility, was know for his athleticism and show ring presence as he won multiple National Championships, as well as several Regional Championships, in the Park Horse division. MHR Nobility continued his success as a sire by producing multiple National Champions in the Park and English divisions. On Noble's dam side, the lineage is equally athletic and successful in multiple divisions. His dam, Desperado Blues, is by National Champion producing sire, Desperado V, and out of Rhythm and Blues, who was a Youth National Top Ten winner and multiple Regional Champion in Park, as well as having success at Regional shows in the English Pleasure division. It is no surprise that Noble has inherited this athletic ability.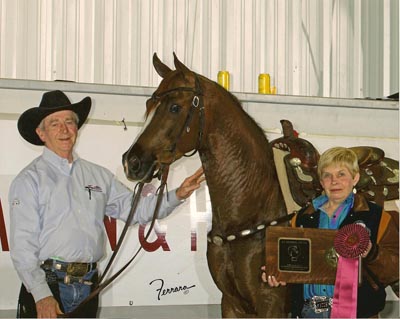 When breeder and owner, Jan Senneker, noticed Noble chasing anything that moved in his pasture as a youngster, she knew he would excel in the working cow horse division and sent him to Vallejo III, Inc. Noble has made the best of his limited show experience and not disappointed any of us. In 2009, he made his debut in Tulsa, Oklahoma at the Green Country Arabian Classic where he earned a high score of 73 and then earned a Reserve Championship in the Junior Horse division. At US Nationals in October, Noble showed his athleticism while earning a Top Ten in the Arabian Working Cow Horse Futurity. After spending the winter months maturing and gaining strength, Noble started his 2010 show season in Tulsa, Oklahoma at the Green Country Arabian Classic with a renewed sense of confidence as he earned a first place finish in the qualifying class and was then Champion in the Arabian Working Cow Junior Horse Championship. Noble has proved he has a bright future in the Working Cow Horse division and has the 2010 US Nationals as his focal point.
The possibilities are endless with this young star; along with Noble's athleticism and beauty, he is also versatile enough to be successful in the hunter pleasure division as well! He is a very kind horse to be around and one that anyone would be happy to have in their barn! Let Noble be the one to carry you to the winner circle in whichever division you choose!
Written by: Kiera Robinson
---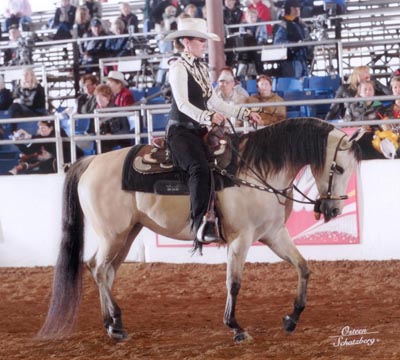 MY BELLE AMIE WP
Proudly offered for sale!
My Belle Amie WP is a flashy five-year-old buckskin mare that was bred and is owned by Dianna Stanger of Wolf Point Ranch in Port Lavaca, Texas. Dianna owned sire, Eqynox+, and was US National Reserve Champion Arabian Stallion AAOTR with him in 2004. Eqynox+ was Canadian National Champion Arabian Stallion, as well as earning multiple Regional Championships in the halter division. Dianna owns Belle's dam as well, the Quarter Horse mare, Colonel Hand Belle. From her sire, Belle inherited great neck shape and from her dam she has gotten her overall body style, substance and size. With this pedigree, Belle would be an excellent prospect as a broodmare.
With Dianna and Wolf Point Ranch's reputation for breeding powerful and athletic horses, it should come as no surprise that Belle has all of these qualities. While her athleticism and a trainable attitude make her show quality, her kind demeanor and easy going attitude make her a pleasure to have around. Belle has been shown a limited number of times and has placed well while qualifying for Region 9 and 13 in the Half-Arabian Western Pleasure Junior Horse division. She was recently shown in Indiana where she placed first in two different classes. Belle would make an excellent show prospect in the open division or for an amateur to show! She is ready for an amateur to show and would be competitive in this year's US National Half-Arabian Western Pleasure Maturity or Junior Horse Class.
Written by: Kiera Robinson
---
VALLENATOS SMP
(Offered for sale)
Vallenatos SMP is a handsome dark bay, three-year-old Purebred colt that has a very diverse pedigree. He is by PS Afire Chief, who is sired by nationally successful sire Afire Bey V. PS Afires Chief has shown great versatility; winning a National Top Ten and Regional Championship in Purebred Pleasure Driving, Regional Reserve Champion Park Horse, as well as being a winner in the English Pleasure division. Vallenatos' dam is PS Babylove; her sire is LBA Lodestar who has sired many National Champions in the western and hunter pleasure divisions. This diverse pedigree created a unique individual with athletic ability and a captivating look.
Vallenatos has been shown in the halter division, earning a first place before coming to Vallejo III late in the fall of 2009 to begin his performance career. As he matures he is proving to be a soft mover with great framework while an extreme dish in his face and expressive eyes reveal an intelligent and trainable attitude. Vallenatos is an excellent prospect for the 2010 Western Pleasure Futurity at US Nationals and will be a great amateur horse as well.
Written by: Kiera Robinson
---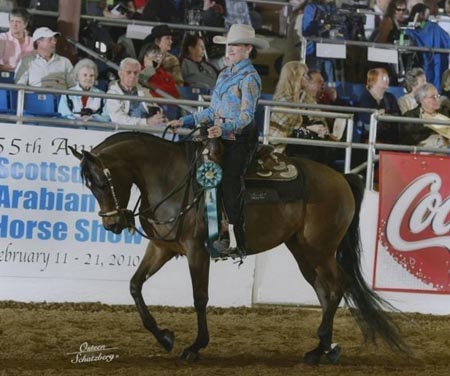 PRINCESS RAVES
Princess Raves is the daughter of royal bloodlines; her sire is National Champion Rave VF and her dam is Reserve National Champion Princess Huck V. As expected from any royal family, there are expectations to meet, so it should come as no surprise that her breeder Bobbi Stuckenhoff has great expectations for her both in and out of the show ring.
When Princess Raves was born she was quite the opposite of Princess Huck's other babies. For starters, she was a "she", after four colts, there was finally a filly; her brothers were tall and a little more "stretchy, " PR was a "tank from day one," as Bobbi says. Very similar to her brothers though, she was stamped with characteristics from each parent; from *Rave she got her color, neck and eye and from Princess Huck she inherited a willing attitude, substance, and overall body style.
Like all of the horses that are born at Talking Waters Ranch in Buffalo, Wyoming, Princess Raves lived outside where she was allowed to be a horse and grow up at her own pace. A long time client of Vallejo III Inc., Bobbi decided to send Princess Raves to the farm late in the fall of 2008. The following year, Princess Raves had success in the show ring as a junior horse with Bob Hart and Kiera Robinson riding, earning many first place ribbons, as well as a Top 5 at Region 11 in Springfield, Illinois. While at Nationals, Bobbi got her first ride on Princess Raves and that is where her plans for the following year were set into motion.
Bobbi made a few trips back to Oklahoma to practice and get a feel for Princess Raves; they were both very willing students and showed patience with one another. While many riders will opt for a smaller show to start out in, Bobbi showed confidence in her horse and herself, diving in headfirst and heading to Scottsdale! Bobbi and Princess Raves debuted in Arabian Western Pleasure Select Rider; with Princess Raves playing the role of veteran show horse, and Bobbi as the rookie, they had a great time! Showing Princess Raves in Scottsdale was a thrill for Bobbi; she owned the sire and dam, bred Princess Raves, foaled her out and watched her grow up. To show in one of the biggest shows in the Arabian industry was exciting and then ending the show by earning a Top Ten in the Arabian Western Pleasure Select Rider Championship with friends and family there to cheer them on was a dream come true!
After being bitten by the show bug in Scottsdale, Bobbi and Princess Raves are planning a full show schedule! The pair just showed in Cloverdale, Indiana where they qualified for Region 13 in Indianapolis, Indiana. Their final destination is Tulsa, Oklahoma to compete at Nationals in the Select Rider Championship as well as the Western Pleasure Adult Amateur Maturity Championship.


While Bobbi and Princess Raves have a lot of ring time in their future, when it is all said and done, Princess Raves will come home to Talking Waters where she will have big shoes to fill as a broodmare. With Princess Raves being Princess Huck's only filly, Bobbi has visions of her carrying on her Mother's tradition of producing athletic and willing show horses. She has already begun scouting out potential stallion prospects and the one that is at the top of her list should produce a very exciting baby to carry on the great Talking Waters tradition!
In the meantime, we are all enjoying watching Princess Raves and Bobbi delve into their latest adventure!

Written by: Kiera Robinson
---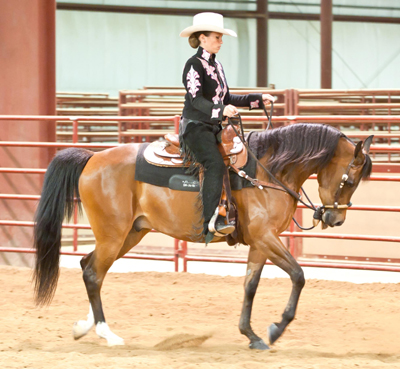 PHENOMINAL RAVES
Phenominal Raves is by US National Arabian Western Pleasure Champion, Rave VF and out of Reserve National Arabian Western Pleasure Champion, Princess Huck V. By simply looking at his pedigree, his name is fitting, but once you see him and get to know him, you know that breeders Bobbi Stuckenhoff and Max Torbert could not have chosen a more fitting name for this horse.
Raves grew up at Talking Waters Ranch in Buffalo, Wyoming and then came to Vallejo late in the fall of 2009 as a three year old. He immediately showed a soft, willing attitude and caught on very quickly to anything that he was taught. Everyday he comes out ready to work and is very happy doing it; his thought processes are always positive and he has yet to have a day where he doesn't want to work! Raves comes by all of this naturally, his sire and dam were both kind horses that had huge hearts and a desire to please! Raves is no different; his ears are always perked and his eyes always bright, but soft and inquisitive. His mannerisms suggest he is mature beyond his years. He is easily one of the barn favorites, and is at the top of assistant trainer, Kiera Robinson's list. Raves has a lot going for him; he is handsome, talented, has great size, as well as being one of the kindest and most willing horses that you will ever be around. He makes you, as a rider, feel as though you can teach a horse anything. He is the kind of horse that any amateur would love to have. He is the kind of horse Ron and Becky Rash were searching for.
Ron and Becky Rash have been involved with Arabians for about 20 years. They have had their share of successes, and just recently decided it was time to find another great horse. They both spent months viewing videos of potential horses and talking to trainers. Then one day Ron called Vallejo and talked with Bob Hart. Bob mentioned a four year old that he feels has a lot of potential. When Ron heard the sire and dam just happened to be two of his all time favorite horses his interest was immediately piqued and plans were made to visit Vallejo. Ron and Becky braved an Oklahoma spring blizzard and made it to the farm to visit. Once they saw Phenominal Raves, they knew it was worth it!

R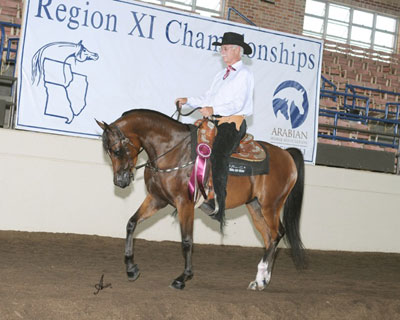 on and Becky both wanted to feel a connection with whichever horse they decided to buy, and when they saw Raves, that connection was there. "When Kiera brought Raves out, she was smiling and I knew he was something special," Ron says. They loved that he was big, correct, kind and soft looking and how "He looked at Kiera and Bob with absolute trust!" Ron recalls watching Princess Huck V show and loved how she was both beautiful and a horse that wanted to please; he was excited to see if her son was the same under saddle. "He had wonderful legs, angles, feet and a hip to die for. Then Kiera got on him and with only 60-75 days of training, I saw the softness, willingness, rhythm and beautiful movement." Ron said that the next thirty minutes were a blur as he got his first ride on Raves, which Becky videoed and they have viewed "50+ times." When he got on, he was amazed at Raves' softness and how he willingly took care of Ron.
When Ron and Becky returned home and reviewed all the videos that were taken, Becky simply said, "Vallejo is where we belong and Raves is the horse." From the time they entered the office and met Kathie Hart and Bette Mitchell, to going out to the barn and meeting Bob and Kiera, they immediately felt at home. Although they loved everything about Raves, there was one more huge issue that helped make the decision. "Kiera and Bob's instructions, their mannerisms, time and reacquainting me with the process of riding a young horse, and their effort to begin teaching me 'the Vallejo way' was what sealed the deal," Ron states emphatically.
Along with everyone at Vallejo, Ron and Becky are excited about what is in store for them and Phenominal Raves. We are looking forward to having Ron and Becky join the Vallejo team and have no doubt that the more time they spend with Raves, they will find that he is simply "phenominal" and will no doubt live up to his name!!

Written by: Kiera Robinson
---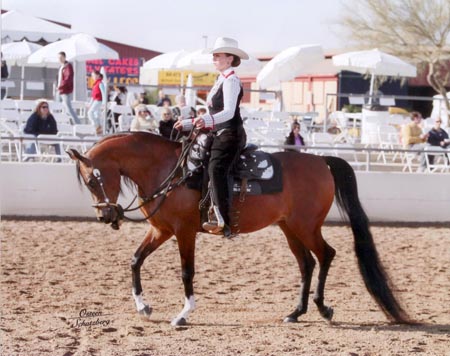 SAHARA JEWEL V
When choosing words to describe Sahara Jewel V, there are a few that come to mind; gorgeous, stunning, talented, loveable, intelligent and personable. Jewel epitomizes the Bedouin "live in your tent" personality and would be more than happy to come inside your house to live with you. She thrives on interaction with people and loves to hear how beautiful she is!
Sahara Jewel V was bred by Varian Arabians, and has an impeccable pedigree. Her sire is the Brazilian born stallion, *Jullyen El Jamaal, who was purchased by Sheila Varian as an outcross to Varian bred mares. He has proven himself as a successful sire with many of his offspring winning in multiple divisions at every level. *Jullyen passes on his exceptional breed type with a high set neck, soft flexible poll, well-carried tail and great temperament. Sahara Jewel V's dam is Sweet Sanadika V, a Varian bred broodmare that has earned the title of Dam of Distinction by producing eleven champions. Sweet Sanadika V passed on great size, and a large beautiful, intelligent eye. True to her breeding, Jewel is a perfect combination of both her sire and dam.
Jewel caught trainer Bob Hart's eye at the annual Varian Summer Jubilee as a two year old, was subsequently bought, and came to Vallejo in August 2007. She began training, and the following year her performance career started with a bang. Jewel captured both the 2008 Region 9 and Region 13 Arabian Western Pleasure Futurity Championships. That set the stage for the 2008 United States Arabian Nationals where Sahara Jewel V was named National Reserve Champion in the Arabian Western Pleasure Futurity Class.
Around the same time that Jewel was just a foal in the pastures at Varian Arabians, Larry and Carol Smith of Stonehill Farms began attending the Scottsdale All-Arabian Show as spectators. As newcomers to the Arabian horse world, attending the Scottsdale show gave the Smith's the opportunity to observe, learn more about the breed, see quality horses compete and most importantly enjoy the entire atmosphere, which planted a seed that "one day they may buy a horse".
Each year they attended the Scottsdale show, Larry and Carol became more and more interested in owning a horse. They didn't just want "any" horse, they wanted something very special and when the opportunity presented itself in September 2009, the Smith's made the leap, and purchased Sahara Jewel V. They braved the cold weather in Katy, Texas to attend Jewel's first show as "their horse", and were excited when Jewel was named Champion in the Arabian Western Pleasure Junior Horse Class.
The 2010 Scottsdale All-Arabian Show was their first time to attend as owners, and with it came a whole different level of excitement. Sahara Jewel V was shown to a third place in Arabian Western Pleasure Ladies to Ride, and a sixth place in Arabian Western Pleasure 5 year old Junior Horse classes with assistant trainer Kiera Robinson, and then earned a second place in the Arabian Western Pleasure Junior Horse Mares class with trainer Bob Hart. Their first Scottsdale show as owners ended on a positive note when Jewel earned a Top Ten in the tough class of Arabian Western Pleasure Junior Horses. Making the win more memorable was when Bob presented Carol with Jewel's Top Ten ribbon from the rail before the victory pass. "That was really exciting!!!" was all Carol could say through a big smile!
Without a doubt, Sahara Jewel V has a bright future, both in the show arena and then as a broodmare. In 2010, she will be campaigned in the Arabian Western Pleasure Junior Horse division by Bob Hart, with US Arabian Nationals as a final destination. For Larry and Carol, it will be an exciting adventure as they continue to learn more about the Arabian horse and all they can offer! Not only do they enjoy attending the shows but visiting Jewel and feeding her treats at Vallejo is equally rewarding.
Anybody would be proud to own such an incredible mare, but for Larry and Carol, Sahara Jewel V is nothing short of perfect.
Written by: Kiera Robinson
---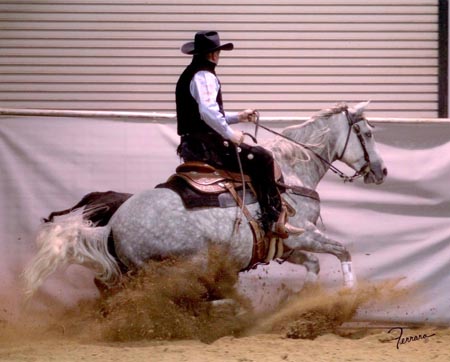 KK CHICS PATRIOT
Al and Dianna Stanger own Wolf Point Ranch in Port Lavaca, Texas. The ranch began with two hundred acres, but soon began expanding, and is now over seven thousand acres, and includes Arabian and Quarter Horses as well as Brangus cattle. Dianna has competed in every different division, but most recently has found success in the cutting division. In 2008, Wolf Point Ranch became the only owner in the history of the Arabian Cutting division to win the Arabian and Half-Arabian Cutting Open and Non-Pro classes at US Nationals, for a total of four championships, two reserves and four top tens. Looking to continue the success, in the fall of 2008 the Stanger's made the decision to place their Half-Arabian gelding, KK Chics Patriot, with Vallejo III and trainer Bob Hart for training.
Choosing a division for KK Chics Patriot was a no brainer; he is a grandson of the great Quarter horse stallion, Smart Chic Olena and has inherited his athletic ability and "cow sense". He was National Reserve Champion in the Half-Arabian Working Cow Horse Futurity class, and then followed that with a Top Ten win in the Half-Arabian Working Cow open class, as well as a number of Regional wins. In addition to being successful in the working cow division, Patriot has had regional success in the cutting division, winning a Reserve Championship and most recently has been shown successfully in the reined cow horse class.
Patriot started the 2010 show season off strong with a second place win in the Half-Arabian Working Cow Open class at the Scottsdale All-Arabian Show and then a Top Ten win in the Championship class. Patriot is continuing his rise to stardom and has a bright future ahead of him; he will be shown this year at Region 9 in Fort Worth, Texas and finish the year at the US Nationals, where he is setting his sights on the big prize. Patriot has shown that he is very consistent in his winnings and diverse in his abilities, making him an excellent match for any amateur or professional who have the same high expectations that Wolf Point Ranch expects from their show string.
Written by: Kiera Robinson
---
LINK TO FAME+
Link To Fame+ was born in 1995 and is a son of the great stallion, Fame VF+ and out of Honeicomb. Link is a big, beautiful bay stallion and combined with his charisma and elegant motion, you can't miss his presence in the ring. Link has had continued success in the show ring; winning multiple national and regional championships in both the open and amateur divisions with trainer Bob Hart, and owners Diane Powers and most recently, Brent Gilman riding.
Link's success with Bob started in the junior horse division, when the pair were Reserve National Champion at Canadian Nationals, and then continued onto the open division, where they won a National Championship and Reserve National Championship. Along with their success at a national level, Link and Bob have teamed up to win many championships in multiple regional shows, as well as Scottsdale.
Diane rode Link for many years in the amateur division, winning championships in the amateur division at the Scottsdale show, various regional shows, as well as a National Championship and many Top Tens. Link and Diane have a definite bond that is evident anytime they meet up at a show. Link can hear Diane's voice and immediately his ears are forward, and his eyes double in size waiting to see her. It is something that is predictable, but always a great thing to witness the love and respect they both have for each other.
Looking for a change after Nationals in 2008, Brent decided it was his turn to finally get to ride and show Link. He made a trip to Oklahoma, and even after his first ride, it was clear that they would make a great team. They had a very successful first year; winning top ten in Scottsdale, unanimous Champion at Region 9, then finished the year at Nationals, by winning Brent's first Top Ten award. Link and Brent picked up where they left off, and started the 2010 show season with a bang, winning a unanimous first place in the Purebred Western Pleasure Adult Amateur to Ride 55 and over class, unanimous Champion in the Purebred Western Pleasure Amateur Owner to Ride 40 and over Championship, as well as a Reserve Championship in the Purebred Western Pleasure Amateur to Ride 55 and over Championship at the Scottsdale Show.
It is evident that Link's show record speaks for itself. Perhaps the most impressive thing is not how much he has won, but that he has done it with three different riders, and at a sustained level for many years. Brent compares riding Link, with all of his 'buttons" and gears, to driving an expensive sports car. While many horses have one or two great years, it is hard to find those that year after year have continued success, stay sharp, and most importantly remain healthy and happy to do their job. Link is definitely enjoying his new role as Brent's sports car!
As a sire, Link To Fame+ is passing on his size, trainability, and fluid motion. His babies have had success in both the open and amateur divisions at the regional and national level. In 2009, Casual Fame earned a National Top Ten in the Purebred Western Pleasure Futurity. Chain Link, Links Fame and RCM Karma Link have all found success in the open and amateur division at the regional level as well.
You would be hard pressed to find an easier going stallion than Link. His kind, quiet, confident attitude, and clown-like personality make him a barn favorite. Link loves to play games and his favorite is "how fast can I take my halter off"; he has a knack for watching out of the corner of his eye if anyone is paying attention, and then with a little help from the tie chain, slipping his halter quickly off. When traveling, Link has "his spot" in the trailer, and 99.9% of the time will have his halter off before pulling out of the driveway so he can bend down and eat his neighbor's hay that has fallen. He will loudly "complain" if he thinks you have forgotten to feed him his grain and his favorite hay. Link loves to work, but equally enjoys his turnout time, and will roll and play any chance he gets.
Suffice it to say, Link has everyone wrapped around his hoof; always trying to convince us that he has to have more of his favorite hay, peppermints, or carrots. After all he has given to those around him, the least we can do is oblige him!
Written by: Kiera Robinson
---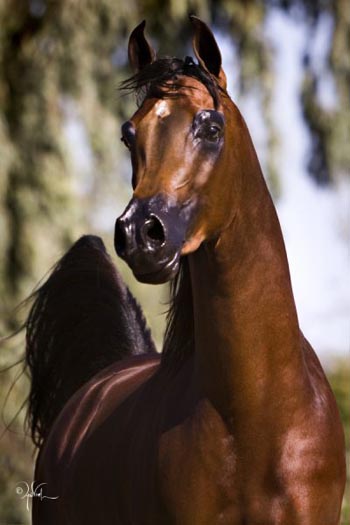 ETERNALLY FAME RA
Dana Lockhart of Fort Smith, Arkansas is an avid Arabian horse enthusiast and has always wanted to own a "special" horse that could have an impact in and out of the show ring. Dana came to the Scottsdale All-Arabian Show this year to lay out a plan for the future with Bob, little did she know that she would soon be the proud owner of that very "special" horse she had always wanted. Dana knew when Bob called her that Friday night at the show, that the horse he had found for her must be extraordinary from the excitement in his voice. Trusting in Bob's judgment, Dana bought Eternally Fame RA; when she saw him at Vallejo III for the first time, she immediately fell in love with him. "Oh my gosh, he is beautiful" was all she could say.
By simply looking at Eternally Fame RA's pedigree, it is no surprise that everyone associated with him is excited about what the future holds for this young star. Eternally Fame RA is by the legendary stallion, Fame VF+ and out of a GG Jabask (Reserve National Champion Stallion Halter), granddaughter, LC Palmyra.
Fame VF+ was National Champion Halter Stallion in 1987, but passed away far too soon in November 1994. His legacy, that still lives on, is as a breeding stallion; Fame VF+ passed on a willing, quiet, and trainable attitude, as well as, fluid motion and the trademark "Fame" look, that is unforgettable when seen.
Fame VF+ sired many National Champions in halter and performance. Alitafame+, Amazing Fame V, Little Liza Fame, Link to Fame+, Magination V, MCA Cypress, Satinwood, Sshameless, Vallejo Exclusive+//, Vallejo Onto Fame++++/, and VJ Tamaras Fame to just name a few. Fame VF+ also sired LBA Lode Star and Versace, who have had an impact themselves as sires; each producing multiple National Champions.
Fame VF's owner Rose Taylor, retained a few straws of frozen semen; Eternally Fame RA is one of the first Fame VF+ offspring from the frozen semen, and the first Fame VF+ son to be born since 1995!
At just three years old, Eternally Fame RA inherited all of his sire's great attributes, and is a promising young superstar in the show ring, already earning a Regional Reserve Champion Halter Stallion. While just starting his western pleasure training, Eternally Fame RA is proving to be an exceptionally bright student and progressing quickly. He has created a great amount of excitement with Dana, as well as trainer, Bob Hart, and they believe, he will do the same for other Arabian horse enthusiasts when he starts his performance career.
Who would have ever thought a beautiful and talented three-year-old colt by Fame VF+ could be found in 2010?
Written by: Kiera Robinson