The Farm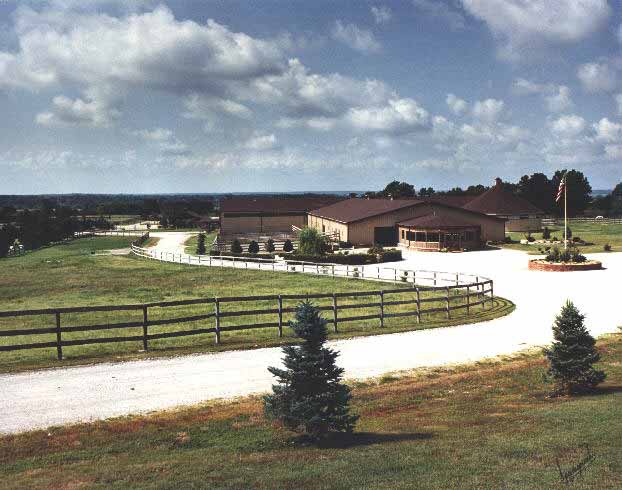 THE RANCH:
When thinking of the top western training barns in the Arabian industry, you would be hard pressed to find one with a higher sustained success rate than Vallejo III, Inc. It is home to some of the most successful show horses in the industry and is fortunate enough to have a group of young upcoming superstars that will, without a doubt, carry on the winning tradition that is synonymous with Vallejo III, Inc. The word "Vallejo" means, "peaceful valley, and Vallejo III Inc is located in Afton, OK and owned by Bob Hart, Jr. Grand Lake-of-the-Cherokees is close by and is a popular tourist destination.
Vallejo III Inc is a state-of-the-art facility; the farm has everything that you would look for in a world- class show and breeding operation. From the main training barn, to lush Bermuda pastures, turnout paddocks and office with visitor lounge; Vallejo III Inc is a premiere horse facility. The horses that are in training at Vallejo III Inc have the accommodations necessary to allow them every chance of success. The main training barn consists of 45-stalls complete with rubber mats and automatic watering systems in each. The indoor arena is 80'x200', and there is an additional 60 foot indoor bull pen with footing that enhances performance and minimizes soundness issues. At the back of the barn, there is covered parking to house the Vallejo III, Inc Freightliner and custom built 8-horse Sundowner trailer. There are a number of turnout pens where all of the horses in training can spend a hard earned day of play and rejuvenation. The facility also utilizes a six-horse hot walker that is adjacent to the barn as another avenue of exercise.
Vallejo III Inc has found a great level of success by hard work, dedication and solid business practices; you would be hard pressed to find another barn that is run as smoothly as Vallejo III Inc. Bob is a perfectionist in every sense of the word and pays a great deal of attention to every detail. The whole operation runs like a well-oiled machine and each person on staff is acutely aware of their duties and responsibilities. Vallejo III Inc is very fortunate to have a staff that is devoted to the well being of the horse; from the office, to the vet, farrier, trainers, grooms and barn maintenance staff, they all have the horse's and their owner's best interest at heart.
Vallejo III Inc is open six days a week and by 7:00 AM, the barn is bustling with activity. The horses are kept on a regular feeding schedule at all times; whether they are home or at a show, they are fed twice a day at 7:30 AM and 4:00 PM. Bob firmly believes in allowing the staff to have a "life outside of the barn" and makes every attempt for everyone to be done by 5:00 PM on a daily basis.
When a horse is in training at Vallejo III Inc, it is paramount to keep all communication lines open with the owners. There are a number of avenues of reaching this goal, and all are utilized at any given time. The farm website (www.vallejoiii.com) is kept up-to-date with recent sales, feature horse articles, amateur profiles, stallion profiles and articles under the "what's new" heading. When a horse is entered in a show, the owner will receive an email or postcard with all of the information of the show including show site, classes entered, show time and hotel information. We will periodically fill out report cards of each horse for the owners as well; on the card, the horse's weight, body condition, muscle tone and training status are all rated on a scale of 1-10. We all understand how important the horses are to their owners, and they are encouraged to contact or visit the farm at any time to check on their horse's training progress or just to see how they are doing!
We are incredibly lucky to have a talented farrier, Mike Proulx, who has been with Bob since the opening of Vallejo III Inc. The farm veterinarian is equally talented and a tireless worker; Dr. John Marcotte has been the farm vet for a number of years. With the help of both of these gifted individuals, the horse's health and soundness are never in question.
---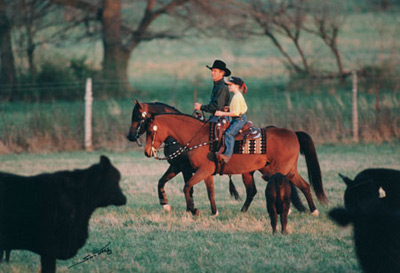 A LIFETIME WITH HORSES:
Bob Hart Jr. says he grew up at horse shows. He can't remember a time when he was not busy helping his dad. Well known trainer Bob Hart Sr. was noted for his park and English horses, and during the 40 year span of his career, showed some of the greats -- *Oran Van Crabbet, *Aramus, Seahorse Duke Dorsaz, and *Zbrucz. Bob laughingly says that when he was training with his dad, he made a conscious decision to excel with Western horses, since his dad got all the good English prospects.
Growing up in Ohio, Bob was surrounded by top people in all breeds. Distinguished trainers such as Stretch and Clark Bradley, Dale Wilkerson, and Doug Lilley imparted freely of their knowledge. Even the 4-H group Bob belonged to was highly competitive. If he wanted to win, he had to be better than just good, and notes that during his teenage years, he always had 15-20 horses to work after school. He also rode horses through sale barns to earn extra money. Rodeo and calf roping also appealed to Bob, and he says the lessons he learned from the variety of equine events he's participated in have played a major role in making him into the horseman he is today. He comments that he probably made a regular nuisance of himself when he was younger, always wanting to learn everything he could from anybody who would take the time to teach him. Bob was winning at the Nationals while he was still in high school, riding Lewisfield Nizzo to two top tens. His first national championship came in 1970 on the Western pleasure horse Lewisfield Magic. Following those beginning successes comes an impressive list of wins, including an unprecedented group of national championships. In the ultra-competitive western pleasure division, Bob has won the Purebred Western Pleasure Open National Championship eight times on eight different horses; an unprecedented figure, and twice the number that anyone else has achieved. Bob has won the Half-Arabian Western Pleasure Open, Purebred Western Pleasure Futurity, Half-Arabian Western Pleasure Junior Horse, Half-Arabian Western Pleasure Futurity and Purebred Arabian Working Cow Horse National Championships more than any other person. Equally impressive is the fact that Bob Hart, Jr. is the only trainer that has been US National Champion Western Pleasure Open and Canadian National Champion Western Pleasure Open on different horses in the same year, which he has done twice.
Bob is a true horseman in every sense of the word. He is known for imparting long-term knowledge on his horses, rather than relying on quick fixes and gimmicks to get them to the show arena. Along with being a trainer, he also doubles as a horse psychologist and enjoys the challenge of getting into each horse's head to figure out how they think. Bob has shown successfully at the National level in every division in the Arabian breed and is now primarily focused on the western pleasure and working cow divisions. In addition to his success in the show ring, Bob has been honored twice as the Western Pleasure Trainer of the Year at the Arabian Horse Trust's Horseman's Awards and was the 2003 recipient of the United States Equestrian of Honor Award. This must run in the family; Bob Hart Sr. was also honored as a Lifetime Achievement Award winner.
Keeping the love of horses in the family, Bob is proud of his two daughters who are each making their own mark in the Arabian Industry.
Audrey Hart has enjoyed a successful show career and thus far has earned seventeen national championships in a variety of divisions. She has won four Arabian Horseman's Awards; two of the awards were for Western Youth Rider of the Year, one award for Working Western Youth Rider of the Year and one award for Working Western Amateur of the Year. Audrey recently graduated from Oklahoma State University with a major in business management. In October 2013, she landed her dream job at graphic design firm in Stillwater, OK, The Western Integrity Agency. In addition to her success in the show ring, Audrey is an avid team roper and in 2008, won at the USTRC Finals, which is the largest equine event in the United States. Audrey is engaged to Casey Hicks, who shares her passion and love of team roping and they reside in Sperry, OK.
---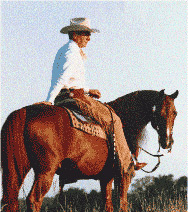 A NEW ERA OF BREEDING
Vallejo III Inc not only excels in the show ring but in the breeding barn as well.
Rohara Moon Storm+/// is the senior stallion owned by Vallejo III Inc. His sire, Moonstone Bey V, is a son of the immortal Bay-El-Bey, and is out of the Khemosabi daughter, Moska, herself a granddaughter of Bay-El-Bey's sire, Bay-Abi, through her dam, Baychatka. Rohara Moon Storm's dam is the exquisite U.S. National Champion Mare Rohara Tsultress, a daughter of Rohara's foundation mare, Emenee (*Aramus x Diamindita), and sired by top producer Ivanhoe Tsultan (Ivanhoe Tsatan x Hillcrest's Bint Imaraff). Moon Storm has sired numerous National Champions in the western pleasure, hunter pleasure and working cow divisions. In addition to his success as a sire, Moon Storm was equally successful in the show ring, winning National Champion Western Pleasure Open, Reserve National Champion Hunter Pleasure Open, National Top Ten Working Cow Horse Open, as well as National Top Ten Futurity Stallion.
Link To Fame+/, owned by Brent Gilman and Diane Powers, was born in 1995 and is a son of the great stallion, Fame VF+ and out of Honeicomb. Link is a big, beautiful bay stallion and combined with his charisma and elegant motion, you can't miss his presence in the ring. Link has had continued success in the show ring; winning multiple national and regional championships in both the open and amateur divisions with trainer Bob Hart, and owners Diane Powers and Brent Gilman riding. It is evident that Link's show record speaks for itself. Perhaps the most impressive thing is not how much he has won, but that he has done it with three different riders, and at a sustained level for many years. While many horses have one or two great years, it is hard to find those that year after year have continued success, stay sharp, and most importantly remain healthy and happy to do their job. As a sire, Link To Fame+/ is passing on his size, trainability, and fluid motion. His babies have had success in both the open and amateur divisions at the regional and national level. In 2009, Casual Fame earned a National Top Ten in the Purebred Western Pleasure Futurity. Chain Link, Links Fame and RCM Karma Link have all found success in the open and amateur division at the regional level as well.
The two latest additions to the Vallejo III Inc stallion roster are Eternally Fame RA and Sunstormm.
Eternally Fame RA is owned by William R. Hearst, III of San Simeon, CA. He is the first Fame VF+ son to be born since 1995. This fact alone make him an instant superstar, and he has inherited all of his sire's great attributes and will undoubtedly pass them on as a sire as well. With limited showing, he is already a Regional winner in the western pleasure division and has a promising future in the show ring and as a breeding stallion. Eternally Fame RA has great conformation, a willing and trainable attitude and fluid motion. He is a Fame VF+ son through and through and has been stamped with the trademark "Fame" look. Sunstormm is owned by Vallejo III, Inc and is an exciting young stallion with a very diverse pedigree. His sire is Sundance Kid V, who has sired multiple National Champions, and his dam is a daughter of Rohara Moon Storm+///, Ice Storm TC+//. Ice Storm is herself a multi-National Champion, and Sunstormm has inherited all of his predecessor's great attributes. Sunstormm has the trademark Sundance Kid V style and Moon Storm movement. With his ring presence and style, Sunstormm has already proven to be a contender anytime he enters the ring as he has won: US Reserve National Champion Arabian Western Pleasure Futurity, US National Top Ten Western Pleasure Maturity AAOTR, Scottsdale Reserve Champion Western Pleasure AAOTR 18-39, Scottsdale Top Ten Western Pleasure Junior Horse, and Scottsdale First Place Western Pleasure 5 year old Junior Horse.
Always one to think ahead of the trend, Bob thought outside the box and started crossing Quarter horse broodmares to Rohara Moon Storm+//. Specifically searching for mares by Zippo Pine Bar, Bob bought two mares that have more than left their mark as producers; Zippo Pine Bubbles and Pines Tigress. For those unfamiliar with Quarter Horse bloodlines, Zippo Pine Bar has done for the American Quarter Horse Association Western division what *Bask did for the Arabian English division. The cross of these two mares to Moon Storm have produced multiple National Champions including Vallejo Zipinmoon+// and Zipinupastorm. Bob has found the great thing about the cross with these mares is the ease at which they can do their job. The babies are athletic, smart, great movers, very soft, and willing. They are happy doing their job and naturally western; seems like the perfect combination!
---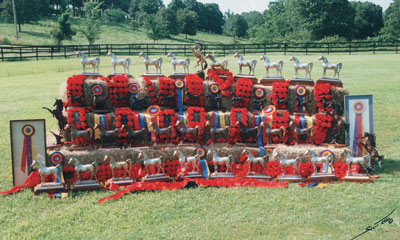 WEALTH OF RIBBONS
Those national championship ribbons are a familiar sight to the Vallejo team, who has collected over 50 national championships, over 25 reserve national championships, and well over 200 top tens. With so many wins, it is hard to pick one that stands out above the rest. Bob mentions the U.S. National Western Pleasure Championship with Rohara Moon Storm+// as being especially memorable. "Most of the time, when I ride a class, I have a pretty good idea whether or not I've ridden it well enough to have a shot at winning it," says Bob, "and it was no different with the ride on Rohara Moon Storm+//. What makes this win stand out for me is the fact that it is the first win I've ever had on a horse that I owned. After all these years, I finally know how my customers feel when I win with their horses. It's special. My win on WN Knight Rider+// was also very special, as he was the only horse to ever be named Unanimous National Champion Purebred Western Pleasure Open under the five judge system!"
It's a long road from the breeding shed to victory lane at the Nationals, and it all starts with swinging a leg over for that first ride. Bob emphasizes that every time he gets on a horse, whether it's the first time or the thousandth, he pauses for a moment to make sure he is tuned in to the level of that individual animal. "If it's an A+ horse, I'd better be an A+ rider, or else the horse will get ahead of me," states Bob matter-of-factly.
---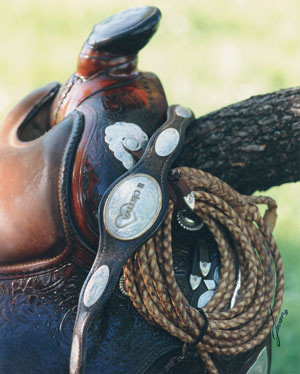 THOUGHTS ON TRAINING
A high degree of thought and attention to detail goes in to the daily routine at Vallejo. A board lists each of the horses in training and every day is marked according to what the horse needs for the day. Bob expects a lot from his horses and gives them every opportunity to be successful. "We try to vary the routine with each horse so they don't get bored. Every horse is an individual and is treated as such at Vallejo III Inc. There is never a set routine and we try to meet each horse's individual needs. Some days I may take them with me when I go roping, ride them in the pasture, put on the hot walker or turned out to play in the paddocks." The horse's mental and physical health is paramount to success in any division they are shown in and a great deal of attention is spent maintaining a healthy balance. All of the horses are expected to give 110 percent and work hard, but it is equally important at Vallejo III Inc to peak a horse at the right time, and then ease off and refresh them when necessary. "Once they have peaked, they can't stay there forever, and so timing is critical."
The horses trained by Vallejo III Inc are the result of a lifelong journey of learning for Bob Hart, Jr., who firmly believes in his philosophies about training. At the heart of his ideals is the concept of being a horseman and imparting knowledge on the horse as opposed to a trainer looking for a quick fix and "teaching the horse tricks." Bob is a staunch advocate in taking the time necessary to get inside a horse's head and find a way to affect the way they think; otherwise he does not feel there is any way you will have any real lasting success in training their thought patterns to understand what you are asking them to do. Bob puts great emphasis on not rushing the training process, allowing the horse time to process what you are teaching them, and allowing them to mature both mentally and physically. "It takes a minimum of 90 days to get a horse to the point where I can safely evaluate the direction the horse's career should take. This gives everyone involved the chance to bring out the horse's best qualities as well as contributing to their longevity and soundness," says Bob. "Sometimes we have to send a horse home before the 90 days are up. If we feel like we're wasting the owner's money, we flat out tell them so. Most horses make it through the evaluation stage, and from there I will advise the owners as to the next steps in their horse's career. If the owners listen, and choose to give me the time to do the job right, I'll make a good horse for them. If they choose to do otherwise, that's fine to, since it's their money and their horse. I want people to think of me as a good horseman, not just a trainer or showman. It's important to take the time to bring out the best qualities in a horse, and I expect my horses to try their hearts out for me. In order to gain that kind of trust from a horse, I never ask for more than it can do. I've won a lot with less than great horses because they were able to give me that 110 percent. I treat every horse like it is national championship material, and the horses never quit giving."
There is a common thread between the top trainers. They do the basics well, and do them thoroughly, never skipping a step or slacking off. Bob denotes the difference between a horseman and a trainer: "A trainer makes a horse do tricks rather than imparting long-term knowledge to the horse," states Bob, "while a horseman has empathy for the horse and can work within the horse's natural instincts as well as training it. The easiest way to differentiate between a trainer and a horseman is to ask yourself 'Would I let this trainer take care of my horse -- not train it -- just care for it?' Too many young trainers want to do the tricks without paying their dues and truly becoming horsemen. It all takes time, focus, and genuine understanding of the horse."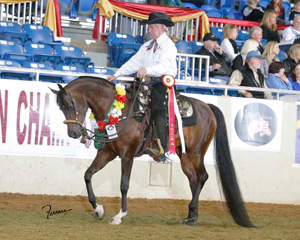 When the Vallejo show team hits the road, the days get longer. Often rising at 3 a.m. to work all the horses before the show starts; Bob says he is definitely a morning person. Working each horse early in the day gives him an idea of where the horse is mentally, and allows him to fine tune as needed to put the horse into the appropriate frame of mind for the class. Bob feels they are there to do the job the clients are paying for, and that is to do the best they can with the horses. When scheduling allows, there is occasionally time for dinner with friends and customers, but that only happens when they are finished preparing the horses and know they are ready to show at their peak.
Vallejo III Inc is home to a very successful amateur program as Bob utilizes his knack for matching a rider with a horse that best suites their talents and ambitions. Bob is an advocate in allowing the amateurs to grow as horsemen themselves and encourages them to observe as many different trainers as possible and soak up all they can learn. Bob states that roping has given him a different perspective on the amateur riders. "Roping is my hobby which means I don't get to devote my entire focus and energy to it. There are days when I rope every steer and there are days I can't rope one no matter what. My timing is off, I pull my slack wrong, or whatever the issue may be. But just like the amateur riders, this is my hobby and I don't expect myself to be on the money all the time and neither can the amateurs. I rope to have fun and that is the same reason amateurs should ride, to have fun! If it isn't fun for them, then we are in trouble! I think it has helped me to become a better teacher for my amateurs as well." The entire team at Vallejo is a strong support system for each other; many of our amateurs will video each other's lessons, watch classes and training sessions together, and share ideas. They are all there supporting each other and their horses when any one shows, making any win a group effort. Bob notes, "Many of our clients are long term because they are treated well. We try very hard to be like one big family group. Everybody roots for everybody else, and a win belongs to everyone. A win is truly a group effort."
---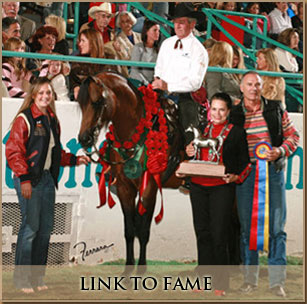 THOUGHTS FROM OTHERS
What is it that makes Bob Hart Jr. and the horses he rides stand out in the show ring? Noted horseman Bob Battaglia says "I've known Bobby Hart since he was barely a teenager -- probably 25 years. He's a dedicated horseman, and most importantly, willing to learn and willing to share his knowledge with others. With Bobby, the horse comes first. He is totally dedicated to the horse, itself. He also does his homework, and his horses come to the shows prepared. His presentation is always tops."
Battaglia recalls the first time he met Bob Hart Jr. "It was at a show, and with my background in the Saddlehorse business, we always kept everything in the aisles just so. We were stabled across from the Harts, and I was busy sweeping the aisles and cleaning tack. Mama Hart yelled at Bobby 'Look what they're doing -- you better get busy and sweep your aisle and get your tack cleaned too!'" Illinois trainer Brian Scoggins is impressed with Bob Hart's willingness to go outside of the breed to learn. He has known Bob for 20 years, and recognizes him as a fierce competitor with an intense desire to win. "He is all business," states Scoggins.
"I would much rather golf against Bob than show horses against him," says Western trainer Bill Porcher, who regards Bob as a friend and an exceptional horseman. "One thing I really enjoy is sitting and discussing horses and training methods with Bob. I have really benefitted from Bob's knowledge and expertise; he has always been very willing to help or watch me school a horse."
Trainer Gene LaCroix has known Bob since the mid-60s and has a great deal of respect for Bob. Bob has given Gene assistance with Western horses, and Gene has reciprocated with the English horses. Gene is particularly proud of the fact that Bob bought a Western horse from him and notes that Bob is a real student of the pleasure horse. "He has developed it and set the standard for all of us to follow," says Gene.
Wendy Potts of Freewill Farms has a great deal of admiration and respect for Bob Hart Jr. as well. She has spent some time working with Bob and was very impressed. "He has good methods of dealing with horses, and is a very good teacher with the rare ability to clearly explain his methods," Wendy says. "He also has a good relationship with his horses, not at all impersonal. Bob's horses go well because they're trained well. I've learned a lot from Bob, and am looking forward to learning more."
Longtime clients and friends, Brent Gilman and Diane Powers of Spring Valley, CA met Bob over 25 years ago when they were looking for a good Western Pleasure prospect, specifically a beautiful black mare. Diane offers these sentiments:
"He found my incredible Princess Gari Mek who I showed very successfully for many years. She is now 29 and living with our equine family at our ranch in Pine Valley, California. She is 29 years old and still rules the ranch. When her show career was slowing down I began looking for another special Western contender. One day Bob called and said he found the perfect horse for me and encouraged me to come to Oklahoma immediately to see her. After meeting Eternally Barbarys, a lovely bright red chestnut mare, I took a test ride and totally fell in love with her. She has been one of my very successful show horses for many years and has won National Top Tens, Scottsdale Championships, many Regional Championships and Reserves ever since I bought her at 5 years old. Now at 21 years old, this year she won another western pleasure AOTR championship. I absolutely adore her!!! Bob has a great eye for finding the right horses for different individuals.
Our story does not end here. The phone rings again and it is Bob. He is very excited about a young 4-year old stallion named Link to Fame+/ and he wanted us to come to see him immediately. He felt Link had extraordinary potential, and sure enough he has lived up to all of our expectations. What an incredibly talented, smart, loving and beautiful western pleasure stallion he has been for all of us showing him, Bob, myself and most recently my husband Brent Gilman. We have won several National Championships, Reserve National Championships, Top Tens and an abundance of Regional and Scottsdale championships with Link. We feel so fortunate that he has been part of our family for 14 years. What an exceptional horse! Thank you Bob!
This story is not quite over.... Bob again, in 2005, finds another extraordinary young mare, Mademoiselle GA. She is drop dead beautiful, unbelievably sweet and by Versace. She too has turned out to be very talented in Western Pleasure AOTR and ATR and I just love showing her. So far she has made it to the National Top Ten level.
Bob obviously has an incredible eye for equine quality and talent and is a highly skilled trainer and horseman. He certainly has an incredible ability to train our horses, as well as to bring the amateur rider up to much higher standards of horsemanship, equitation, and showing skills. I deeply appreciate all that he has done for me and for Brent over our many years of business, friendship and showing with him. We also have deep admiration for his ability to find and train such magnificent Arabian Western Pleasure horses that are so perfect for us and we dearly love them all."
Frank and Jessie Szymanski of Riga, MI became clients of Vallejo III, Inc. in 2008 when they brought the Half-Arabian gelding, PF McCoys Wildfire+ to Bob for training. That year, Jessie earned a Top Ten finish at the US Nationals in Half-Arabian Western Pleasure AAOTR 18-39 and that was just the beginning of her success. Since then, she has been multi-National Top Ten, multi-Scottsdale Top Ten and multi-Regional Champion. Jessie comments, "I have been riding with Vallejo III for several years now, and I can honestly say I still, after each lesson, learn something new. I am very thankful for all that Bob has taught me over the years with my horses. He has taught me countless strategies and tools to be successful in the ring and it sure has paid off! I also enjoy the Vallejo Team, where I have made some of my greatest friends. I am glad I chose Bob Hart and Vallejo years ago and look forward to learning more and being apart of the Vallejo III experience."
The McAfertys have had one or two horses at a time at Vallejo continuously since 1995. My daughter, Kim, still feels she is continuing to learn from Bob every time we go to the farm or meet him at a show. We feel almost like family and thoroughly trust Vallejo with the care of our horses since they've more than proven themselves to always put the horses' health and welfare first just as I would here at home. I don't tell him often enough but I'm extremely grateful to Bob for the fun we've had, the memories we've made, the knowledge he continues to share with Kim, and the success we've had in the ring.
Frank and Sharon Stathopoulos of Raymore, MO have been longtime friends and clients of Bob Hart and Vallejo III, Inc. In November 1986 at the American Royal Arabian Show with Gene Reichardt judging I was in an open class of 20+ junior western pleasure horses along with Bob and others. During that class each time Bob would ride past me he would guide me with quick tips of advice both ways of the ring. Amazing. I took each tip and applied it just as he suggested. I won that huge class of babies. I've never forgotten that. But...that's just who Bob is. Over the years he'd be on the rail for one of his clients but he'd still always give words of encouragement or advice to others and me in that same class. Talented trainer.... special man. Being one of Vallejo's clients these past several years has been great and fun too! My favorite quote of all time is what, in my mind, describes Bob Hart and Vallejo III perfectly: "The price of success is hard work, dedication to the job at hand and the determination that whether we win or lose we have applied the best of ourselves to the task at hand." Vince Lombardi (Green Bay Packers Head Coach 1959-1967 and GM 1968)
Chris Schmidt came to Vallejo III, Inc in 2012 looking to make the next step in her riding and showing. "I joined the Vallejo III team a year ago and I can't even begin to share what a great experience it has been. I have learned so much about riding and showing from Bob and Kiera's expertise. Every lesson I receive is individualized to my needs and never the same thing twice. I never knew how much I could learn after all of these years of showing. It has been a fabulous year of growth for me and I can't wait to see what the future holds!!" The past year was indeed a great year for Chris! She bought the Half-Arabian gelding, Zipinupastorm, from Bob and couldn't be more thrilled by his National Championship win in the Half-Arabian Western Pleasure Junior Horse class.
Dana Coffey, owner of Hillview Arabians in Martinsville, IN, as well as a Large "R" judge offers these sentiments, "We have been blessed with becoming and extended member of the Vallejo family! I had the opportunity to work for Vallejo in 2010 at the prestigious Scottsdale show. Nothing will forge friendships more than spending an entire month with someone. Thankfully, our friendship has continued to grow. My daughter, Brooke, at the age of 9, had an unbelievable experience. She spent an entire week at Vallejo with Bob Hart and Kiera Robinson. They worked with her on riding and introducing her to riding with a hackamore. Her biggest thrill was riding one of Bob's roping horses and going against Audrey in an exciting barrel race! Kiera spent loads of time teaching Brooke the proper technique of riding in a hackamore. The tradition behind Vallejo is remarkable and to see the consistent success achieved by trainer and clients...amazing! Bob and Kiera have this innate ability to bring a horse along at the right speed and make it into a true partner with its owner. Definitely no shortcuts in their training program! Now, in 2013, friendship still going strong, I just completed my fourth nationals with the Vallejo team and what a Nationals!!" " I have always admired and respected Bob. His dedication and work ethic are incomparable! There are many horsemen out there, but very few true horsemen. Bob Hart is the definition of a true horseman. I am so happy to be included in the Vallejo III family. I look forward to each and every show!", Sheri Scanlan offers enthusiastically.
Marjorie Carr of Miami, Florida purchased the Half-Arabian working cow horse KK Chics Patriot+/ from Bob at the 2012 US Nationals. She wanted something to try ranch sorting and "play around on" at home. She and Chic got along great in the ranch sorting, and then she decided to step it up and try working cow. Chic came back to Vallejo III, Inc. in July of 2013. Jorie has had her fair share of success in the show arena in the English Pleasure, Equitation and Hunter Pleasure divisions; Working Cow was going to be a new and exciting venture. Jorie made a few trips back to Oklahoma to practice before her debut at the Tulsa State Fair. She proved to be a quick learner, and in their first class, she and Chic scored a 75, the high score of the show! They finished US Nationals with a well-deserved Top Ten! Jorie states, "Bob is a great horseman. I am so grateful for all the time and effort he has spent teaching me about the Working Cow division. It's an honor to be a part of the Vallejo team."
Jim and Pene Maurer have been clients and friends of Vallejo III, Inc for many years. Pene offers the following, "The Master is 'a person that listens to your concerns and remembers. A man that can describe the same technique in multiple ways until one can understand. A man when he decides to speak, one should listen.' Look at the record of Bob Hart, Jr. It speaks for itself! I am saying this because nothing gave me more pleasure than to ride under the tutelage of Bob!"
As a little girl beginning her show career, Michele Betten idolized Bob Hart Sr. and has known Bob Jr. forever, she says. "Bob is a standout because he has dedicated his life to the betterment of the Arabian horse. He takes training to a higher level. Bob has been there for me over the years. For example, one year at Canadian Nationals, I called Bob from the show, and he analyzed my problems, gave me sound advice designed to get me back on track with my horse, Lightnin' Strikes. The next thing I knew, we had won the reserve national championship. I'm proud to call him friend," states Michele.
"Bob is a horseman's horseman," states Joe Betten. "He is a perfectly balanced combination of what I call 'doing' and 'being.' Doing refers to his drive and ambition, and being has to do with his total understanding of the horse. He is a great teacher."
---
THE VALLEJO III, INC APPROACH
Bob is generous with his talent and knowledge, sharing freely with other trainers. He recognizes how much he has gained by spending time working with other trainers, and notes that it helps him gain perspective, and he reciprocates by passing this knowledge along to the other trainers who come to Vallejo III to learn. In turn, verbalizing his techniques reaffirms his procedures and freshens his own perspective.
"I am my own worst critic," says Bob. "I know when I've had a good or bad ride, and as thorough as I am in my training, if I don't win, it is my fault. The horse knew his job, and I let him down by not focusing enough."
A high degree of thought process and attention to detail is what sets Bob apart in the show ring. He knows what he expects of his horses, and they always give 110 percent. "We try to vary the routine with each horse so they don't get bored. Every horse is an individual, with certain needs, and horses at Vallejo III are never dropped into an assembly line. Sometimes they are used to move cattle, or ridden in the pasture, and the better the horse is responding to training, the more time off that horse will spend getting to play in a paddock, which is good for them both mentally and physically." Bob works very hard with his Western pleasure horses to make them "using horses." He adds "If I want to pick up the reins and roll him back on the fence, the horse should respond easily. A good, well-trained Western horse should be soft in the bridle and move just as softly. Teaching a horse to go softly yet with a round back is probably the most difficult part of the training process, and by that I mean the horse has to really be striding up under himself and pushing up from underneath. When this happens, the horse can carry his front end on his own rather than the rider trying to carry the horse's head with the reins."
Bob is a staunch advocate of letting the horse be comfortable with the bit. He dislikes seeing horses that seem intimidated by the bridle, since that type of training makes a horse panic when you take a hold of the reins. "As training approaches the finishing stage, it's important to recognize how to peak each horse, and memorize the steps it will take to get each horse to their best," says Bob. "Once they've peaked, they can't stay there forever, and so timing is very critical so we can peak the horses when we need to for each show. After the show, the horses need to be eased off and refreshed on the basics in a snaffle. The horses are gradually built back up through exercises and drills to the necessary peak for the next show.
---
THE MAKINGS OF A WESTERN HORSE
According to Bob, a good Western horse will have a great mind and a big heart -- two things you can't lump in with conformation. When assessing a prospect, how can he judge those intangibles? Quite simply. He goes by the horse's eyes and expression. He looks at probably 2,000 to 3,000 horses a year while shopping for clients, and while there are good ones available, the really great ones are rare.
Physical characteristics will include a pretty, eye-appealing look to the horse, and overall quality of conformation. Bob likes to see the hocks set low, and good legs set on top of good feet. He intensely dislikes a club foot or dishy foot, preferring a nice wide hoof. Above the hoof, he expects to see good length and slope of pastern, short cannons, and front legs that are set well to the front of the horse rather than under the shoulder. Another important characteristic he needs is a good set of withers, which he notices the halter people tend to forget about when breeding, since they would rather see a smooth line (translated into mutton withers) than a set of withers that could hold a saddle. Often, Bob notes, the halter criteria used today seems designed to eliminate much of the horse's performance ability.
The horse's hind legs and quarters need to be strong and set well, so the horse can use his hindquarters to push. A conformation point often not noticed or remarked upon by others is the horse's mouth. Bob wants to see a deep mouth, since a shallow mouth often doesn't fit most bits very well. The horse's neck should be shapely and well set.
According to Bob, the most important part of a great horse is its mind. "So much depends on sound mental ability and heart," says Bob, "since I think we've all seen those horses who could outperform what their structure said they could do. A great horse is a combination of six parts: first, the physical attributes; second, the mental capacity; third is charisma or presence; fourth is a desire to win; fifth is a good owner; and sixth is a good trainer. The last two are extremely important, since a good horse needs the right owner to see it through, plus the trainer with the right rapport and talent to bring out the best in the horse. All these characteristics need to combine if a horse is to excel," adds Bob.
"This business tends to focus too strongly on the negatives rather than the positives, and I would like to see that change. So many times we focus on what is wrong instead of what is right about a horse, without taking into consideration the horse's structure as an individual."
The perfectionist in Bob requires his horses to be well presented in the show arena, and that means not only trained and ridden well, but prepared aesthetically as well. From the tack to grooming to the rider's apparel, the total picture must be one of good taste with an air of confidence. Again, attention to even the smallest detail is what makes Bob such a tough and successful competitor.
---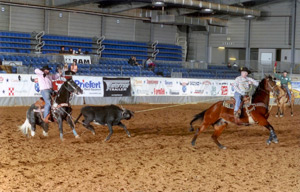 PLANNING FOR THE FUTURE
Growing up, Bob was an avid roper and in recent years has picked up the hobby once again. He has found that roping has given him a great outlet away from the normal routine of the training barn, and still allows him to be around the thing he enjoys the most, the horses. He often ropes in the evening at Flying Cow Arena, owned by good friends Tony and Kristi Small and their children, Courtney, Blair and Zac. Roping is another family affair, as Bob enjoys this adventure with Audrey and Casey. For him, it is his hobby and something he can do with no pressure to succeed, meet new people and have a relaxing time.
As fads come and go and times change, the one thing that will remain constant is the high standard of winning at Vallejo III Inc. Bob Hart will continue to be a perfectionist, continue pushing those around him to keep raising the bar and the 2:00 AM training sessions at shows will remain standard. Whatever the future may be, the entity that is Vallejo III Inc will continue to have the talent, focus and dedication to continue their winning ways and the Vallejo III, Inc influence will be felt for many years to come.
Bob chuckles and says, tongue-in-cheek, "When I'm ready to retire from public life, do you think anyone would put up a fuss if I applied for my amateur card?"